Today marks the one year anniversary of Splunk's listing on the NASDAQ exchange. By most accounts, it was one of 2012's most successful IPOs. A year later, it's worth looking back at Splunk's IPO to see what worked and the lessons learned.   I'm very proud to have been a part of Splunk's IPO, and, let's be honest, I couldn't have started Upright Position Communications without it. But to get the company to that point took vision, hard work and a cast of hundreds.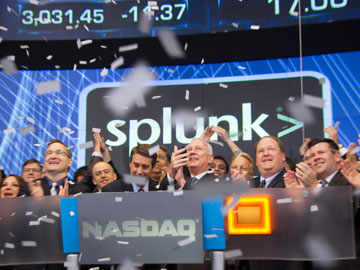 The story of Splunk's IPO, particularly from a PR standpoint goes back more than a year. I joined Splunk in 2011. At that time they were doing an excellent job of reaching out to their core customer base. No one from that group of passionate Splunk users needed to be convinced of Big Data's potential – they were living and breathing the benefits. For Splunk to go to the next level, they had to move beyond preaching to the choir. Going public was part of that expansion.   Splunk never hid its ambitions on going public. In fact, long before pointing Splunk on its IPO trajectory, CEO Godfrey Sullivan likened the experience to running a marathon, suggesting that an IPO is only really "mile 3″ of the race.   Today, Splunk is still running that race. Yesterday, its stock closed at $41.02, well above its IPO listing price of $17. Not only is Splunk still in the race, it's also leading a pack of other big data players on, or soon to be on Wall Street, like Tableau Software (with what will be the perfect Big Data ticker symbol: "DATA"). With the Big Data trail red hot for Wall Street, what did we learn from Splunk's experience?
Make sure the corporate fundamentals are in place: Companies that don't have a history of running in the black are unlikely to be a Wall Street darling. Even though Splunk has yet to show a profit, market interest is strong because of the company's solid fundamentals. Consider:

From the moment Sullivan was appointed CEO of Splunk, he ran the company like it was a publicly-listed company. Investors take notice of these things.
Its investor relations infrastructure was established long before the IPO. It's not uncommon for companies to not even create the investor relations role within a company until after the IPO, which I find shocking. Facebook famously ran a employment ad on Facebook the day after its IPO. So much for planning.
Map out the PR infrastructure and storylines well before the IPO: I was hired to put Splunk's PR infrastructure into place. Part of that entailed hiring a new PR agency and taking an off-the-frame approach to its messaging. After looking at some very good PR firms that impressed the hell out of me, particularly Access Communications and Eastwick Communications, we selected LewisPR. They understood where Splunk was coming from, where it needed to go and had some solid ideas about the stories we needed to tell to get there. They also put together a great PR team with chemistry – I knew I could work with these folks. The Splunk Board fast-tracked the IPO to get ahead of Facebook's offering, so we didn't have as much time we wanted to lay down our storyline, but we were able to get the word out quickly, as you can see from this showreel:
A quiet period doesn't mean a silent period: One of the things I learned from Visa's IPO in 2008 was that the SEC's quiet period (the period of time following the filing of the S-1 and before the SEC declares the registration statement effective) scares the bejesus out of lawyers to the point where most counsel suggest doing as little as possible in terms of talking about the company to avoid falling on the wrong side of the SEC's graces leading up to an IPO. There are nuances to which what can and cannot be discussed during the quiet period. It's a communications professional's responsibility to know what they are and how to navigate those waters. 
I've found the quiet period to be a very good time to talk about a company's core business, rather than products or forecasting. Journalists respect the quiet period, and as long as the company executive talking to the media knows the general rules about what he or she can talk about, interviews done during this time can be poignant and focused. With Splunk, we even had one of the company founders speak at SXSW about what Big Data was and what it meant to everyman.
Understand your new audiences quickly: As I mentioned earlier, Splunk, in its transition from startup to Wall Street darling, quickly adapted to embracing its new audiences without alienating its core audience, the people who used Splunk's products. This isn't an easy task. From a messaging standpoint, we had to explain to a new journalists what Big Data was, what machine data was and how it could be managed before even getting to the point where you could explain what Splunk was. Additionally, as a company goes public, while the number of audiences increase, the messages to many of the existing audiences need to change. Think about employees: Many of those employees are now shareholders who stand to gain a lot from the company's success. There's a tonal shift that occurs. Many of the folks in Splunk senior management recognized that.
Think beyond the IPO: An IPO, as Godfrey Sullivan said, is only mile 3 in a company's marathon. It's important not to lose sight of that. What you don't want is for anyone at the company, covering the company or investing in the company shrugging their shoulders saying, "OK, now what?". From a PR perspective, the day after IPO day is the day the messaging evolves.
A company's IPO is an amazing opportunity to grow a company's public relations footprint. With care, strategic thinking and well thought out storylines, an IPO enables an organization to rise above the noise to lay a communications foundation that can position itself as an industry leader. To many reporters, the period leading up to a company's IPO is the first time they've dealt with the company. This gives an organization an amazing opportunity to tell its corporate story the way they want it to be told. After Facebook's IPO last year, the IPO market retreated and retooled. Thanks to a string of successes late last year and this year, the IPO market appears to be strengthening. IPOs aren't a cakewalk, but they can make a difference for the organization if executed well.   If you'd like to know more about how a company can maximize its IPO with a sound communications strategy, drop me a line or ask a question in the comments section below. I'd love to hear from you!   Featured Image Photo Credit: Paul Wilke   Splunk and Splunk> are registered trademarks or trademarks of Splunk Inc. in the United States and other countries.